Florists & Garden Centres
In an area known internationally for its floral displays and breath-taking gardens there are of course a range of florists and garden centres where you can take some of Harrogate's glorious horticultural wonder home with you.
Horticulture runs through the Harrogate district like a swathe of colour through a herbaceous border at a full bloom. The towns are renowned for their floral displays and hanging baskets through the summer, but winter still sees hardy displays planted up to ensure year round appeal.
Florists with flare
Harrogate is home to a variety of dedicated, passionate and in some cases award-winning florists who provide beautiful blooms all year round.
Whether you are looking for gifts for friends, something to brighten your home or holiday cottage for the week, or want to take some blooms home to remind you of your visit you can find loving crafted displays or single flower bouquets across the Harrogate district to meet your needs.
Garden Centres
Harrogate is blessed with a collection of stunning gardens, from the country houses with gardens that match the splendour to be found indoors, to the private gardens that open for the NGS Open Days and give you a glimpse behind normally closed gates.
Feeding these incredible displays is a network of Garden centres, nurseries and specialists who have dedicated themselves to the growing of quality plants.
From bedding plants to herbaceous centrepieces, fruit trees to roses, specialist seeds to hand crafted tools, you will find everything you need for the garden in Harrogate's garden centres.
More
Florists & Garden Centres

Shopping
Harrogate Horticultural...


Shopping
RHS Garden Centre Harlow Carr

Behind the scenes of
Florists & Garden Centres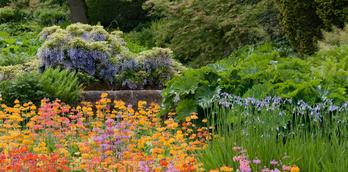 RHS Garden Harlow Carr bursts out of lockdown
The team at RHS Garden Harlow Carr has been very busy during this lockdown period, getting on with as...