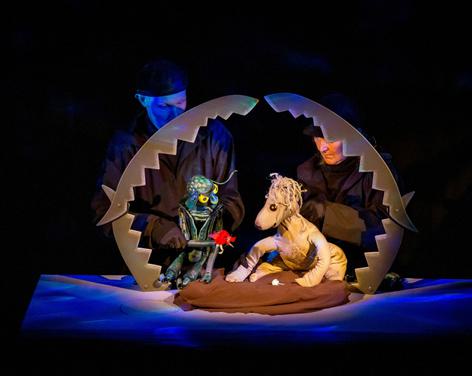 Flotsam floats, Jetsam sinks – both their worlds are on the brinks,
The jagged arcs of waves and sharks – chase them both in minds and hearts.
They must break through their tears and fears – and worries of a thousand years,
To find what's true and out of the blue – discover the other and a friend that's new.
Flotsam is soft, flexible, laid back. She slides and glides through life on the ice. Jetsam is the opposite, his insectile body is stiff and nervy, alert and watchful, suspicious of all in his forest home.
And then comes the weather… and they are both cast adrift in a world that is strange to them and full of a range of dangers. Finally washed up on the same island beach they must discover the other and work out how they can work together. A hopeful, adventure story about two very different creatures displaced from their respective worlds by climate change. A story of our time, visual, accessible and with delightful puppetry and original music. Suitable for everyone from 4 – 104.

Not what you're looking for?
Related
Events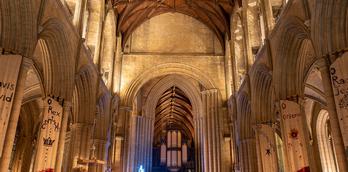 Journey To Bethlehem
Enjoy the start of Christmas as we sing familiar carols and the children tell the story of Christ's birth...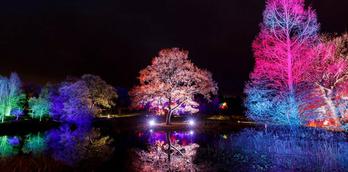 Glow - Winter Illuminations at RHS Garden Harlow Carr
Let it Glow! Wednesdays to Saturdays this Christmas season - enjoy an unmissable after-dark spectacle of lights at RHS...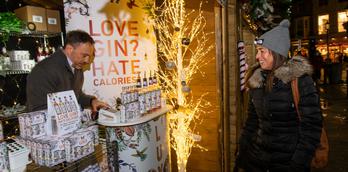 Harrogate Christmas Fayre
Experience the joy of Christmas in the heart of Yorkshire this December. Harrogate's famous Christmas Market returns to the...
Behind the scenes of
Events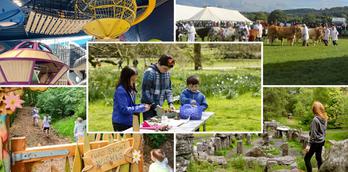 Summer holidays in the Harrogate district
From festival headliners and outdoor theatre to pirates and duck races, there's plenty of family fun in the sun...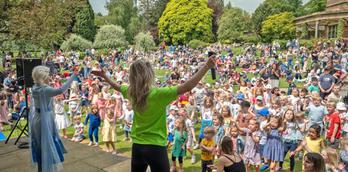 Summer Pop-up parties are back!
The pop up parties are back this summer! Last year our local council hosted the FREE fun filled family...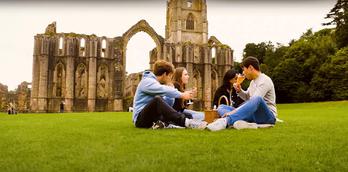 Top places to picnic in Harrogate and beyond
What better way to spend a sunny day than packing up a picnic and heading to a picturesque spot...
More
Events

29th Jul 2023
Reclaiming Lunacy
16th Sept 2023
Inspired by Italy at...

17th Nov 2023
Apres Ski at the West Park...

18th Nov 2023
Winter Illuminations &...

22nd Nov 2023
Dick Whittington

22nd Nov 2023
Glow - Winter Illuminations...

25th Nov 2023
Christmas at the Caverns!

25th Nov 2023
Magical Christmas Experience...

25th Nov 2023
Wreath Making at Harrogate...
You may also like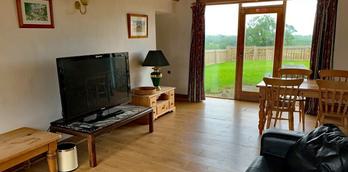 West Leas Holiday Cottages
4 holiday cottages on a small farm, all with individually fenced gardens and patio area. Open all year Short...
Studley Hotel and Orchid Restaurant
The Studley Hotel Harrogate and Orchid Restaurant is a friendly hotel with a warm welcome located in Harrogate walking...
3 Month Spa Membership Offer at The Harrogate Spa,
3 Month Spa Membership Offer at The Harrogate Spa, - DoubleTree by Hilton Harrogate Majestic Hotel & Spa! Summer...