Things to do
in Knaresborough
You will find a choice of interesting things to do in Knaresborough thanks to its unique geography and medieval heritage.

With its dramatic position perched on the top of the picturesque cliffs overlooking the River Nidd, and the majestic Victorian viaduct spanning the gorge – Knaresborough rewards those who are curious and keen to explore.
The ancient Norman Castle has stood its ground against several sieges over the centuries including those by the Parliamentary Forces in the English Civil War.
A visit to the castle gives a fascinating insight into its medieval life whilst the perfectly preserved Tudor courtroom in the adjacent Courtroom Museum conveys an authentic feel for Law and Order at the time.

Your Day out
in Knaresborough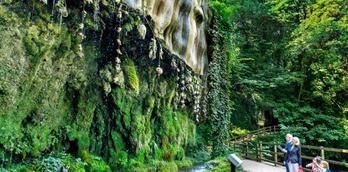 Mother Shipton's Cave and Petrifying Well
Mother Shipton's is a beloved Knaresborough landmark and England's oldest visitor attraction, open since 1630. This popular visitor attraction...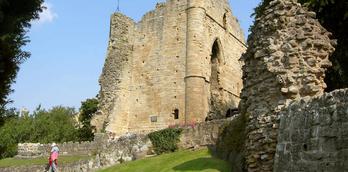 Knaresborough Castle & Museum
A stronghold of medieval kings, Knaresborough Castle is beautifully set, overlooking the River Nidd. Explore Knaresborough Castle independently and...
The Frazer Theatre
Welcome to The Frazer Theatre, Knaresborough - home of The Knaresborough Players. The Frazer Theatre is located just off...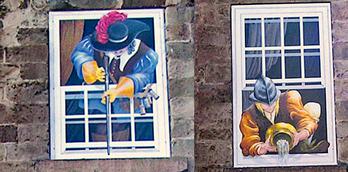 Knaresborough Windows
Knaresborough's "Town Windows" - a collection of public art works illustrating characters and events from the town's long and...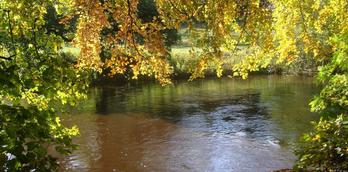 Nidd Gorge
Nestling between Harrogate and Knaresborough, the woodland, which dates back to at least 1600, is actually made up of...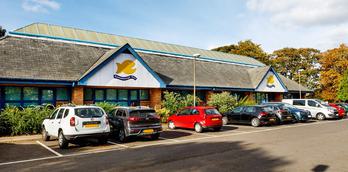 Knaresborough Pool
Situated on the south east side of Knaresborough at the top of the High street, Knaresborough pool is easily...
Knaresborough's market continues to thrive every Wednesday after over 500 years, with a range of stalls that surround the statue of local hero, Blind Jack, in the Market Square.
A gentle walk down to the picturesque riverside opens up new vistas, and reveals hidden gems such as the Bebra Gardens. The waterside is a second focus of activity with cafes flanking the riverside and colourful boats are available to hire for – what else? – messing about on the river!
Those who love to be active will also find a plentiful supply of things to do in Knaresborough.
Get the most from your
Visit to Knaresborough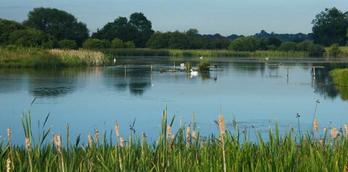 Staveley Nature Reserve
The 84 hectare Staveley Nature Reserve consists of a shallow lagoon edged with reedswamp, fen and flower-rich grassland with...
St Robert's Cave
The remains of St Robert's Cave and chapel are a rare example of a medieval hermitage, cut out of...
Knaresborough Round Walking Route
This circular route around the Historic Castle town of Knaresborough takes in quiet lanes, river side paths and ancient...
Beryl Burton Cycle Way
This fully surfaced cycle path connects Knaresborough to Harrogate and beyond, connecting to the Nidderdale Greenway which goes to...
Walks along the river reveal a number of beauty spots and points of historical interest; the 12th century home of the medieval hermit St Robert and across the water, perhaps the strangest of Knaresborough's attractions Mother Shipton's Cave and the Petrifying Well – England's oldest visitor attraction and the original home of its most famous prophetess.

If you want to blow away the cobwebs – why not explore the woodland tracks and trails which cross the Nidd Gorge and beyond

The Knaresborough Round is a circular walk that takes in many of the delightful villages that surround the town, each with a welcoming pub and beer garden where you can take moment and enjoy your surroundings.

For those who prefer two wheels, the Beryl Burton Cycleway provides an opportunity for traffic-free family cycling to both Ripley and Harrogate and takes in the grade II listed Nidd Gorge viaduct.
You might run out of energy, but you will not run out of things to do around Knaresborough.
Events in
Knaresborough

1st Dec 2023
Badapple Theatre Co. present...

2nd Dec 2023
St John's Christmas Tree...

2nd Dec 2023
Knaresborough Christmas Market

2nd Dec 2023
The Melrose Quartet Christmas...

2nd Dec 2023
Northern Voices - A Concert...

2nd Dec 2023
Ghost Hunt at Allerton Castle

3rd Dec 2023
Knaresborough Christmas...

10th Dec 2023
Wreath Workshop

16th Dec 2023
An evening of Swing with Dan...
Blogs in
Knaresborough

See the Harrogate area...

Remember, remember the 5th of...


Things To Do
Summer Pop-up parties are...

Enjoy a long weekend fit for...

Things to do this February...

Heritage
10 Winter Walks around...

Half Term and Halloween Fun

Feel Good Place
Find the colours of Autumn on...