Great shopping
in Harrogate
Harrogate has always attracted the discerning shopper and this is never truer than at present. When so much of our shopping for essentials takes place online, it is refreshing to re-discover the experience of taking a little time to find something unique and perfect. Take pleasure in browsing independent shops whose collections have been curated to provide something a little bit different.
Several of the main shopping streets radiate from the town's open floral space around them and provide a thriving home to numerous boutiques, jewellers, booksellers, shoe shops, bakeries, chocolatiers and a department store – all whilst overlooking the 200 acre Stray.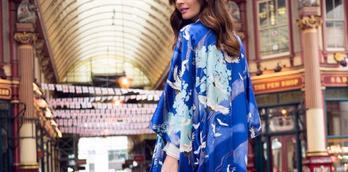 The Japanese Shop, Harrogate
Welcome to The Japanese Shop, one of the largest Japanese shops in Europe and home to one of the...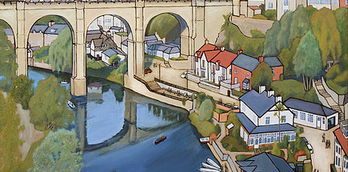 Inger & Rae
Inger & Rae, a gorgeous little gem nestled in the heart of the beautiful Westminster Arcade. We love all...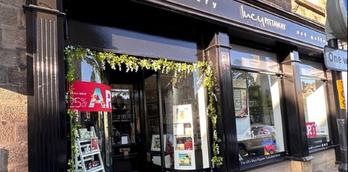 Lucy Pittaway
Lucy Pittaway, the renowned artist, still the 'UK's Most Popular Published Artist', invites you to explore her art at...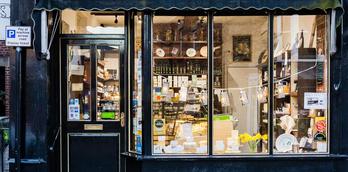 The Cheeseboard
Established over 40 years ago, this is one of Yorkshire's finest cheese shops, stocking a wide variety of local...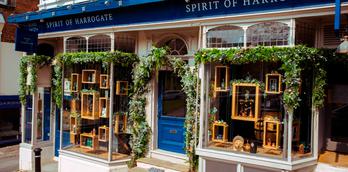 Spirit of Harrogate
Spirit of Harrogate is home to award-winning Slingsby Gin and is located in the historic Montpellier Quarter of Harrogate...
A stroll down from the Cenotaph, through the immaculately kept Montpellier Hill Gardens, reaches the town's Montpellier Quarter where the cobbled streets and iron street furniture are more reminiscent of continental Europe. The area has long been notable for its antique shops and art galleries with a restaurant and café culture to match.
Just a stone's throw away, across the gardens bordered by the elegant Esplanade (home to the town's popular Christmas Market) is the delightfully named Cold Bath Road, reminding us of the town's spa town heritage. A stroll up Cold Bath Road reveals a rich choice of cafes, restaurants and shops serving this vibrant residential area.
Explore the choice of
Harrogate Shops



Shopping
Fogal and Barnes Fine...


Shopping
Rise Furniture and Mobility

Shopping
Jespers of Harrogate

Shopping
La Cornue Harrogate

Shopping
Harrogate Horticultural...

Shopping
Once Upon A Time
Many of the streets of Harrogate have their own unique personality and culture – Commercial Street, Beulah Street and Parliament Street, just to name a few well worth a visit. Of course no prestigious shopping destination should be without its shopping centre – the Victoria Shopping Centre is conveniently located opposite the railway station on the site of the town's previous market hall and is hugely popular with visitors to the town.
Something for Everyone

Shopping
Jo Malone London


Shopping
Elegant Era Vintage

Shopping
The Yorkshire Soap Company

Shopping
Specialized Concept Store...
Shopping
Furnish & Fettle

Shopping
27 West Park Antiques & Home...

Shopping
Imagined Things Bookshop

Events in
Harrogate

1st Dec 2023
Harrogate Christmas Fayre

1st Dec 2023
Harrogate Ice Rink &...

1st Dec 2023
Christmas Cracker Ball at The...

2nd Dec 2023
Harrogate Father Christmas...
2nd Dec 2023
Harrogate Festive Artisan...

2nd Dec 2023
Wreath Making
2nd Dec 2023
The Harrogate Christmas...

2nd Dec 2023
Northern Voices - A Concert...

2nd Dec 2023
The Melrose Quartet Christmas...
Blogs in
Harrogate

Food & Drink
Festive refreshments on West...

See the Harrogate area...

Remember, remember the 5th of...
Food & Drink
Welcome to Restaurant Week

Things To Do
Summer Pop-up parties are...

Enjoy a long weekend fit for...

Food & Drink
Tempting ideas for Sunday...

Places to Fall in Love with...

Things to do this February...
Offers in
Harrogate

Christmas
Two Night New Year Escape at...

Christmas
Christmas Escape at Rudding...

Food & Drink
Christmas Party Nights and...

Food & Drink
Festive Lunch & Dinner at The...

Accommodation
10% off your stay

Things to do
3 Month Spa Membership Offer...