Great Knaresborough Bed Race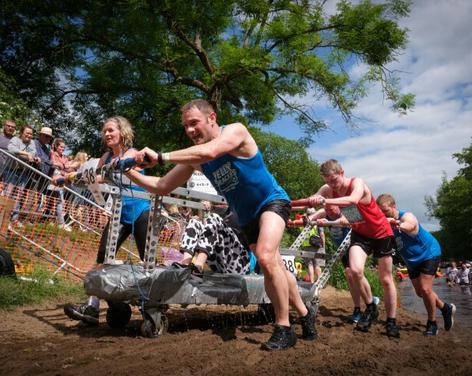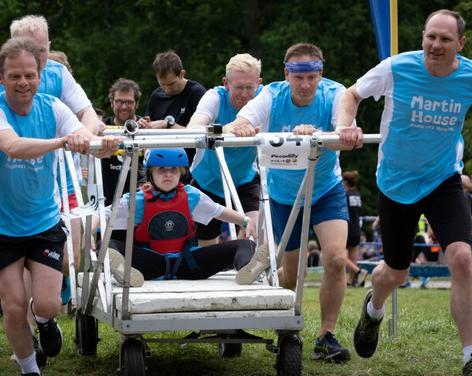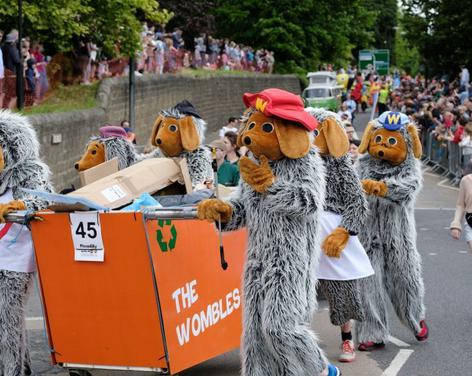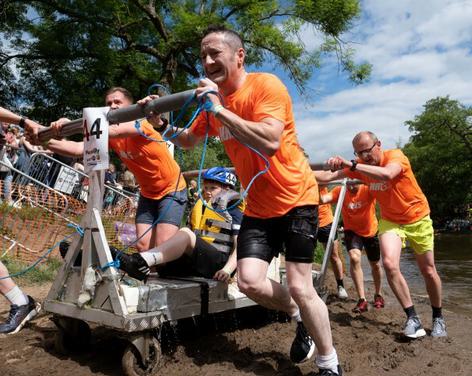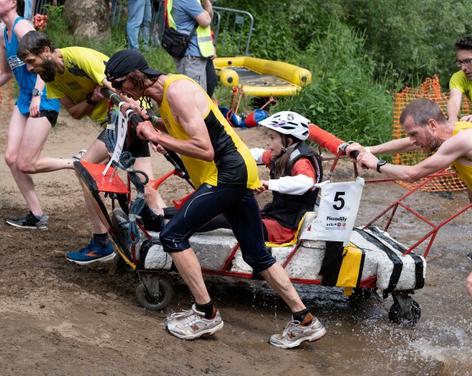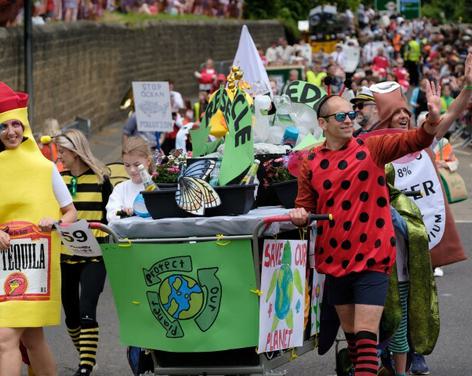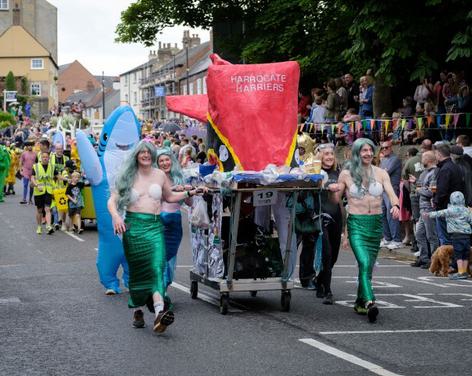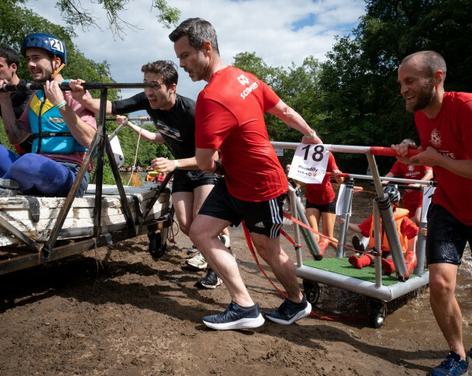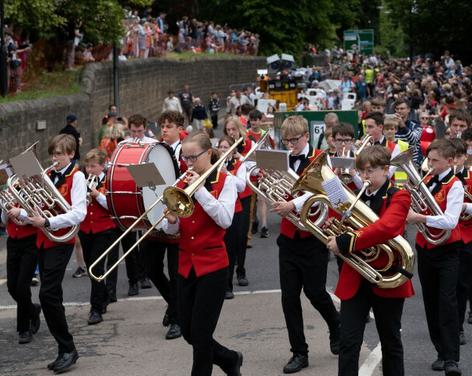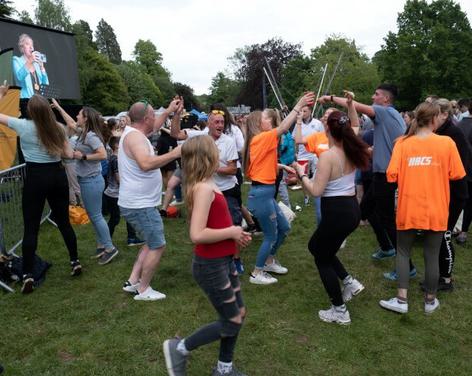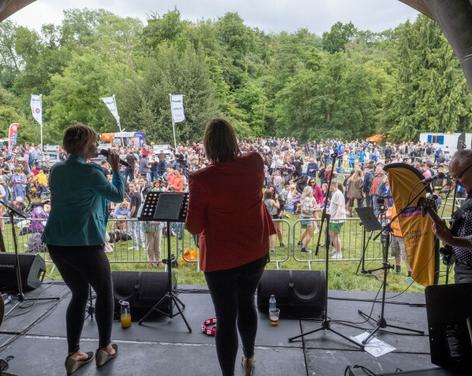 Bed Racing is a much-loved annual past time in Knaresborough, combining as it does a gruelling athletic contest with a spectacular fancy dress parade of decorated beds and runners. It has been held annually on the second Saturday in June since 1966, missing two years of the pandemic.
Set in the scenic and hilly terrain of Knaresborough, the Bed Race is held over a 2.4 mile course, through leafy parkland, up and down vertiginous climbs and decent, through the Nidd Gorge, across cobbled streets and culminating in a swim through the ever icy waters of the River Nidd. 90 teams of six runners and a passenger (preferably light, young and of resilient spirit) participate; hundreds more participate in the Parade and tens of thousands come to watch - all organised by volunteers to raise money for local good causes. What's not to like!
Join the town as it celebrates this annual event with a day of festivities. Knaresborough loves a party and welcomes visitors from across the country and increasing the world for this fabulous and slightly eccentric event.
The serious event beneath the fancy dress
But don't be fooled into thinking it's all fun and games - far from it.  Amongst the competitors the race is taken incredibly seriously, in the weeks leading up to the Bed Race groups of people can be seen in the early morning or late evening doggedly training with their bed, practising hills, cobbles, the start and keeping their passenger on broad through the obstacles (failure to retain your passenger leads to disqualification, and often hurt feelings).
But they only get one attempt at the route itself and when the whistle blows things get serious in a hurry!
Not what you're looking for?
Related
Events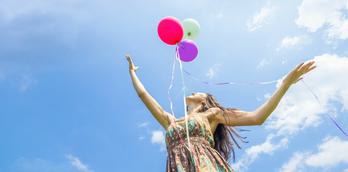 Ripon Theatre Festival
Five days of drama, street theatre, circus, dance, puppetry, storytelling and more. Events and activities for all ages, both...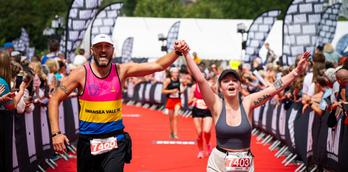 Long Course Weekend: Yorkshire
Set in Pateley Bridge, the Long Course Weekend is expected to bring over 5,000 athletes, 20,000 supporters from 3...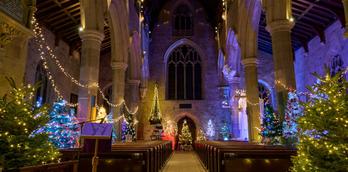 St John's Christmas Tree Festival, Knaresborough
The Knaresborough Christmas Tree returns for another year. Every year seventy Christmas trees decorated by local groups and businesses...
More
Events
16th Sept 2023
Inspired by Italy at...
16th Nov 2023
North Pole Post Office

17th Nov 2023
Apres Ski at the West Park...

18th Nov 2023
Winter Illuminations &...

22nd Nov 2023
Dick Whittington

22nd Nov 2023
Glow - Winter Illuminations...

25th Nov 2023
Christmas at the Caverns!

25th Nov 2023
Magical Christmas Experience...

25th Nov 2023
Wreath Making at Harrogate...
You may also like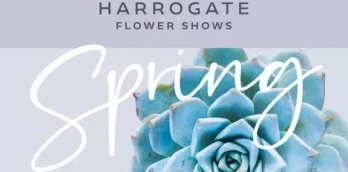 Harrogate Spring Flower Show
Your garden is as personal as your fingerprint – no two are the same. The Harrogate Spring Flower Show...
Ripon City Photographic Society Annual Photography Exhibition
Come and enjoy the very popular Annual Photography Exhibition showcasing the works of members of Ripon City Photographic Society...
Five Harrogate Walks for Nature
Embark on unforgettable Harrogate walks through stunning nature spots. Discover five scenic walks for nature enthusiasts, showcasing the beauty...