Yorkes Folly (Two Stoops) & Crocodile Rock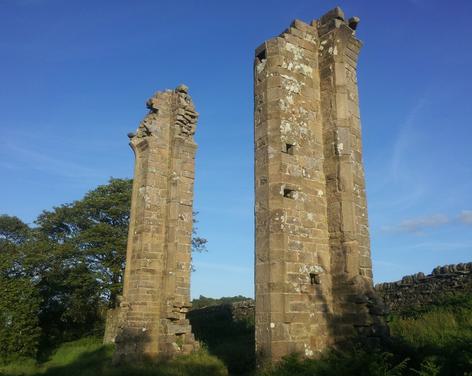 Yorke's Folly & Crocodile Rock are a popular pair of landmarks for short walks on the hill above Bewerley nr. Pateley Bridge.
Yorke's Folly, now known locally as 'Two Stoops' is a pair of stone pillars styled to appear as if part of a ruined arch, though in truth they remain almost fully intact from their original construction, though originally there were three stoops, the third having collapsed during a storm in 1893.
The Folly was built during a time of hardship and low employment.  As was common in the Victorian era the building of the folly allowed the wealthy Yorke Family to provide paid work and food to needy workers.
As well as an intriguing monument the folly also gives a stunning view across Nidderdale and down over Pateley Bridge.
The sister landmark to Yorke's Folly on the other side of the road is a rocky outcrop known locally as Crocodile Rock, named after the shape which resembles gaping jaws, once visible in silhouette from the valley, though now obscured by trees.
Both Yorke's Folly & Crocodile Rock can be accessed by a short walk from the layby on the Nought Moor Road south of the village Bewerley, or as part of a longer walk from Pateley Bridge.
Read more
Not what you're looking for?
Behind the scenes of
Things To Do
Five Harrogate Walks for Nature
Embark on unforgettable Harrogate walks through stunning nature spots. Discover five scenic walks for nature enthusiasts, showcasing the beauty...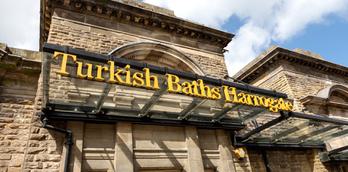 A place to feel good - Turkish Baths Harrogate
A spa break in the Harrogate district isn't complete without a visit to the authentic Turkish Baths in the...
Holidaying with yourself in the Harrogate and beyond
Looking to take a break away with yourself for company and wondering where to travel? For an enjoyable and enriching...
More
Things To Do businesses

Things To Do
Mother Shipton's Cave and...

Things To Do
Nidderdale Museum

Things To Do
Bewerley Grange Chapel

Things To Do
Newby Hall & Gardens
Things To Do
Beningbrough Hall, Gallery &...

Things To Do
Spirit of Harrogate - Unique...

Things To Do
Fountains Abbey & Studley...

Things To Do
RHS Garden Harlow Carr

Things To Do
Turkish Baths Harrogate