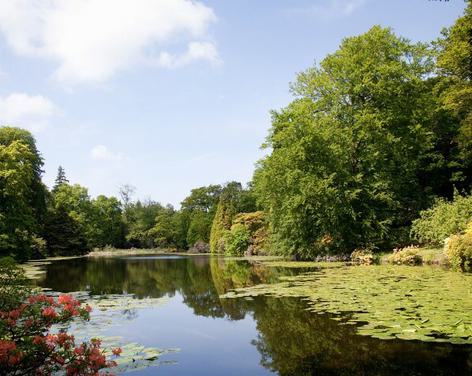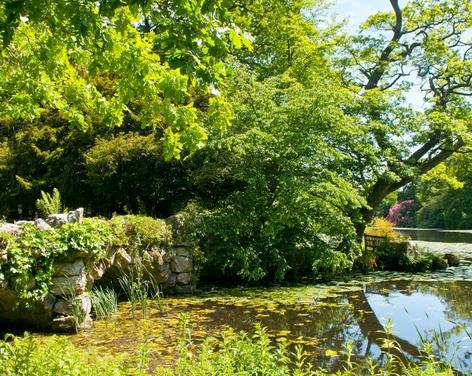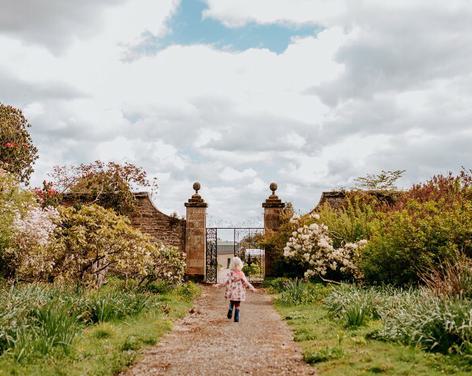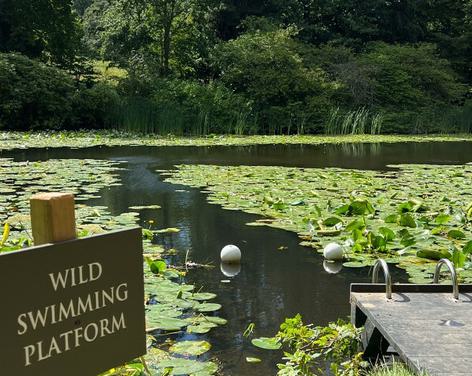 Nestled on the 20,000 acre Swinton Estate is Swinton Park's 200 acres of heritage Parkland and Gardens. An 18th Century listed landscape, influenced by the great landscapes of Capability Brown, the parkland was created by Danby family during the 1760's. A deer park, five lakes, gardens and follies were laid out and planted. The gardens are beautiful whatever time of year, awash with snowdrops, daffodils and bluebells throughout winter and spring; with summer resplendent with rhododendron and blossom.
Walking routes abound, with maps and suggested routes that take in Coffin Lake, Dales View, Quarry Gill and Top Lake with its standing stones and island. The shortest walk takes about 30 minutes, but to explore the whole area will take several hours!
The Walled Garden
A four-acre Walled Garden, one of the largest in England, is a working kitchen garden, growing huge quantities of seasonal fruit, herbs and vegetables (over 60 varieties) used across the Estate restaurant kitchens. In the growing seasons, it is a hive of activity, and you will often see chefs wandering into the garden to collect ingredients.
The Walled Garden is also home to a cutting garden, flowers from which are used throughout Swinton Park Hotel.
Home Lake and the Aviary
The beautiful 'serpentine' stretch of water in the parklands of Swinton Park is Home Lake, where fly-casting lessons taking place here during the fishing season. visitors to the Parklands and Gardens can also visit the Birds of Prey at the aviary at any time, housed in what was once the Orangery.
Spa Gardens
With a fixed, holistic eye on 'earthing' your wellness, the space provides a 'barefoot path' for you to use at any time with your parkland and gardens pass.
Woodland Wellbeing Space
A space designed to unwind and relax. Hammocks in the trees offer a tranquil space where you can absorb the natural sights and sounds.
Wild Swimming
With a purpose-built swimming platform, the 'wild swimming' pond in the grounds of Swinton Park, is ready for you. Whether you have tried wild swimming before or not, we highly recommend you give it a go.
Admission charges:
The Day Pass provides access across the Estate, including parking at Swinton Bivouac. Available from the Estate Shop, located at the entrance of Swinton Country Club & Spa.
£10 per adult
£2.50 per child (5–16yrs)
£12.50 family of four (2 adults, 2 children)
Under 5's free
The Annual Pass provides access across the Estate, including an annual parking pass at Swinton Bivouac.
£60 annual pass (pass holder and a guest)
Read more
Not what you're looking for?
Nearby
Places

Things To Do
Swinton Cookery School


Things To Do
Swinton Park Country Club and...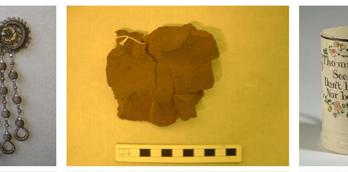 Further curiosities from the museum
It always brings great excitement and even after 11 years there are still always new surprises for me, with...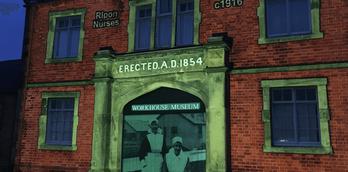 A New Way to Launch an Exhibition
In normal times, Ripon Museums will hold several exhibitions a year across three sites: the Workhouse Museum, Prison &...
GARDENING FOR WILDLIFE
by Mark Pethullis, Gardener at Beningbrough Hall, Gallery and Gardens.
More
businesses



Things To Do
Mother Shipton's Cave and...

Things To Do
Nidderdale Museum

Things To Do
Bewerley Grange Chapel

Stay
Reservoir View Holiday...
Food & Drink
Dining at the West Park Hotel

Stay
The Crown Hotel Harrogate

Shopping
Spirit of Harrogate