Masham Tourist Information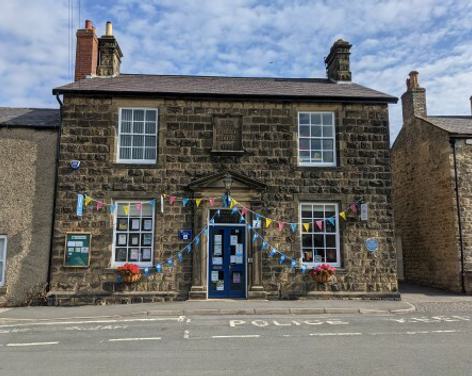 The Mashamshire Tourist & Community Office opened in July 2003, the result of a local initiative to convert an unused Police House into a one-stop community facility.
The Office is in the Little Market Place in front of the imposing Town Hall. The main Market Square with its beautiful Georgian houses was created in the 18th century. The huge market place would originally have been surrounded by thatched cottages and was the site for annual Sheep Fair which still continues today on the last weekend of September.
Masham has not-to-be-missed treats in the food and drink department! Famous for our beer, we boast not just one, but two breweries, both making real ales in the traditional way. There are interesting follies to explore in Hackfall Woods, close to Masham and also the Druid's Temple, on the Swinton Estate.
Our experienced and knowledgeable staff and volunteers will be able to help you make the most of your visit supplying information on Masham and the surrounding area with local attractions, places to eat, places to stay, walks and neighbouring towns. Masham Tourist Office has a wide range of publications, local guides, maps and souvenirs to help you make the most of your visit and can also provide the following services:
Advice on Local Accommodation
Local information regarding shopping, local markets, attractions, events
Information on What to See and Where to Eat throughout the area
Lists of events taking place locally and Box Office for Town Hall events
Travel information including Bus/Rail timetables
Information on Walking and Cycling routes
Flock Gallery
Original souvenirs, local interest books, publications, guidebooks, maps and postcards
Second hand book club
Community Library with access to Local History for visitors to research genealogy
Public internet access for visitors to access e-mails etc
All major debit and credit cards accepted.
Plenty of parking in the Market Square where an honesty box is in operation.
Read more
Not what you're looking for?
Nearby
Places

Things To Do
Black Sheep Brewery & Tours

Food & Drink
Black Sheep Brewery Bar &...


Public EV Charging
Masham Town Centre Car Park

Things To Do
Masham Swifts Town Trail
More
Visitor Information Centres businesses

Visitor Information Centres
Ripon Tourist Information...
Visitor Information Centres
Knaresborough Tourist...

Visitor Information Centres
Harrogate Tourist Information...

Visitor Information Centres
Masham Tourist Information

Visitor Information Centres
Nidderdale Plus Tourist...

Visitor Information Centres
Boroughbridge Tourist...