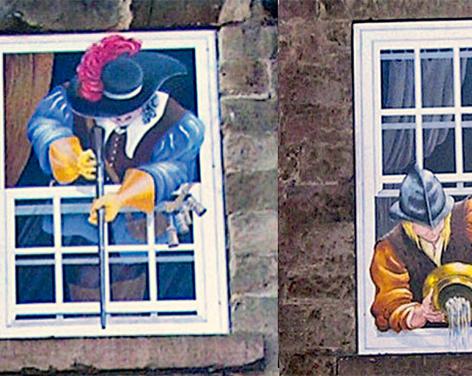 Knaresborough's "Town Windows" - a collection of public art works illustrating characters and events from the town's long and rich history can be seen around the town centre on various buildings. The art works use the technique of trompe l'oeil - a painting style that sets out to 'fool the eye' into seeing a painted picture as something real.Knaresborough has dozens of blank windows in older buildings of the town. They are a feature of Georgian buildings. The windows were blocked to avoid window tax or incorporated in the building's design to provide symmetry. "Town Windows" reinstates the windows by installing paintings on panels.The "Town Windows" are in place all year round so whenever you visit we hope you will take the time to explore our streets and discover them. This guide will help you find them all. While you walk around the town be sure to look up and take in the historic architecture of the town. You may well be struck by the number of blind windows around the town or by other interesting features.This project has been devised and managed by Renaissance Knaresborough. Renaissance Knaresborough is the organisation set up to identify, develop and deliver projects that improve Knaresborough.See information on the individual windows in the official guide.
Read more
Not what you're looking for?
Nearby
Places

Car Parks
Conyngham Hall Park, picnic...

Car Parks
York Place Long Stay Car...

Things To Do
Beryl Burton Cycle Way

Public EV Charging
Knaresborough Lidl EV...

Public EV Charging
Fisher St. & Chapel St. Car...
Things To Do
Bebra Gardens, Knaresborough
Behind the scenes of
Things To Do
England's oldest tourist attraction reopens
by Jay Stelling of Mother Shipton's Cave and Petrifying Well Storms, flooding, and a global pandemic. It's safe to...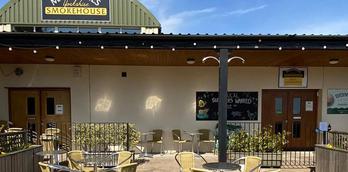 Mackenzies Smokehouse adapts to the lockdown
Well this isn't what we were expecting, but with my husband Paul's knowledge of the food and drink industry...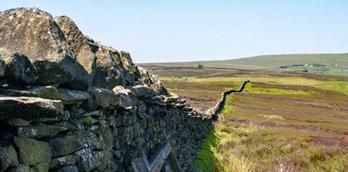 Walking in the great outdoors
From the gentle walking trails around our market towns to the impressive 49 miles of the Ripon Rowels walk...
More
Things To Do businesses

Things To Do
Mother Shipton's Cave and...

Things To Do
Nidderdale Museum

Things To Do
Bewerley Grange Chapel

Things To Do
Newby Hall & Gardens
Things To Do
Beningbrough Hall, Gallery &...

Things To Do
Spirit of Harrogate - Unique...

Things To Do
Fountains Abbey & Studley...

Things To Do
RHS Garden Harlow Carr

Things To Do
Turkish Baths Harrogate